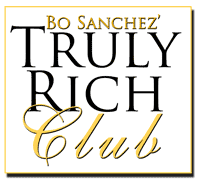 As all we noted, time really flies very fast.  It's been two years already since I started investing in the stock market with the guidance of Bo Sanchez' TrulyRichClub.  Last year and early this year, I harvested some of the "fruits" of my investments by selling the stocks recommended by the club.  I'm very happy about my profits.  Now I know the truth about Robert Kiyosaki's idea that money can work hard too through investing; treating your hard earned money as employee.  I wish I could have started investing as early as 2008 when the market crashed!  Here are some of the facts I've gathered recently.  In the midst of 2008 financial crisis, Meralco (MER) is 14php per share, Aboitiz Power 4php per share, DMCI (DMC) 3php per share, URC at 4.50php per share and JGS at 1.92php per share.  January this year, these are the new prices in pesos: MER 281 per share, AP 38.10 per share, DMC 53 per share, URC 86 per share and JGS at 38.4 per share.  The above figures only concern the capital appreciation without considering the dividends payout.  These are the returns that will surely make us a millionaire in due time instead of hoping to win the lottery.  There is a truth about the saying, "when there is crisis, wealth is being transferred" because most people who are scared in times of crisis are selling his/her stocks at a loss in which the rich people buys them.
If investing in the stock market is really good, then why there are only 0.5% of the populations are doing it?  Perhaps this is mainly because stocks are viewed as risky investments. In fact, 85% of people are losing money in the stock market.  On the other hand, if done properly, it is said that in a 5-20 year period, stocks outperforms other investment vehicles such as bonds, time deposits (of course), and even real estate (in some cases).
In my experience, our biggest enemy is ourselves due to lack of education about how money works and clinging to an old idea.  We are all brainwashed to work for money since we were kids.
So act now, drop the old ideas and start your journey to financial freedom!