Just want to share you this sample stocks update from Bo Sanchez' Truly Rich Club. I'm so excited in the power of compounding in the years to come. I remember the day I told one of my relatives about the dividends I received the first time. He was very excited to know and asked me "how much?" and I answered "well "it's 200 pesos". He laugh at me and said "are you excited with that amount".  But that was 4 years ago. Now it multiplied many times because of my habit of investing month after month after month…  Thanks to the Truly Rich Club team for the motivation and encouragement.  You are doing a great job!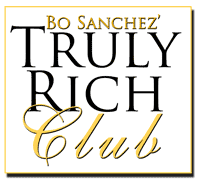 Do You Want to Earn Thru Dividends or Capital Gains?
The obvious answer is "Both!" Let me backtrack. There are two ways of earning in the stock market. The most popular way is through Capital Gains. That's what gets bragged in the office cafeteria. "I bought this unknown company at P1.23 last month. Today, it's gone up to P2.58! Whoot!" And a lot of congratulatory high-fives follow. But that same guy didn't mention how he bought another unknown company at P0.45 last month and it's doing P0.08 today. No one talks about losers, only winners. Because talking about the winners is exciting. And it makes you look very sexy. Hey, I like Capital Gains too. Who doesn't? It's like winning the lotto. In the history of the TrulyRichClub, we've had wonderful stories of Capital Gains. Not from unknown companies, mind you, but from our humongous giants. (For example, when we sold JGS last year, we enjoyed a 40 percent capital appreciation.) But as exciting as these are, I believe the bulk of your long-term profit will come from dividends. Wharton finance professor Jeremy Siegel studied the stock market returns from 1871 through 2003—a span of 132 years! Do you know what he found out? In that loooooong period, 97 percent of the total returns from stocks came from dividends, and only three percent came from capital appreciation.
What does that mean? In the long-term, a huge part of your earnings will come from DIVIDENDS. That's when the gigantic company you buy gives you annual or semi-annual share of their profits. Sometimes, it's two percent or three percent or four percent or five percent a year… It really depends on the company. These tiny dividends aren't very exciting. But over time, they compound. And they will make you very rich. In 20 years, this is what will make you a multimillionaire. (Obviously, this works if you reinvest the dividends as we always tell you to, and not withdraw it from the stock market to buy a wide-screen TV or take a trip to Hong Kong.)
Here are a sample of the SAM Stocks that give you dividends:
BDO – 2.2%
EEI – 2.2%
LRI – 5.5%
TEL – 6.7%
I know, they don't look very exciting. But believe me, in the decades to come, they will…
Have a fantastic year ahead of you!
Happy investing!
May your dreams come true,
Bo Sanchez