A lot of people know and heard about the stock market, its benefits over the long term and specially if compared to banks' offered savings and time deposit accounts. Surprisingly, few people get started investing. I'm also guilty about this. The most common question is: "How and where do I start?"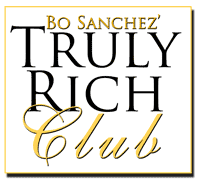 Knowing where to start investing in the stock market is very important. Most people are stuck to this because they don't know where and how. I remember 3 years ago when I heard about investing in stocks. Somebody sent me the e-book of Bo Sanchez where he explains the stock smart. Although the book is easy to read, I have run through it many times until convinced myself that I should start it out.
But along the way, while having our regular date in the mall, I saw the opportunity to "invest" and own a townhouse somewhere in Rizal so I decided to grab it instead. Luckily, (because I call it as a blessing anyway), after several months of paying the down payment for our townhouse unit, the developer got involved in a scam so all the amount of money I put in was wasted.
Then again I remember the stock market. I used my reserved cash for the down payment as my initial investment. I did it afraid thinking that I'm entering again into another scam because I don't have any friends or relatives to ask for advice. I convinced myself that if I can invest into a scam for a bigger amount, these 5,000 pesos is just small. So I did what was instructed in the book.
Author Bo Sanchez recommends Citiseconline (now COL Financial) as a broker in buying and selling stocks of giant companies. So I filed a 1 day vacation leave and went to their office in Ortigas. I was surprised to know that in less than 1 hour, I already have my COL EIP account. It's very easy!
Fast forward after 3 years of religiously funding my account and following the Strategic Averaging Method of the Bo Sanchez' TrulyRichClub, my money earned 10 times the amount of money I lost in my wrong investment in townhouse. Investing really pays off!
If you're still struggling in starting out or opening an account here's two simple steps that you can do:
1. Go to COL Financial's office in Ortigas and bring a valid ID (driver's license or SSS ID)
2. Fill-up the form and pay the initial amount of 5,000 pesos
That's it! You will have your account already. Just wait for COL's email for the login credentials so you can buy your first stock during the trading day which is from Monday to Friday, 9:30am to 3:30pm.
So stop making excuses now. Start investing today!