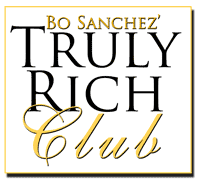 My wife and I attended the 3-day Holy Week Retreat last April 5-7 conducted by Bo Sanchez and his team of preachers at Valle Verde Country Club inPasig.  The retreat is entitled: Total! The Secret of Big Returns
In the lobby, Shepherds Voice Publications' books are being sold so I grab the copy of Bo's newly launched book entitled: The Turtle Always Win (How To Make Millions in the Stock Market).
I believe this book is a sequel for his book entitled "My Maid Invests in the Stock Market and Why You Should Too!" which explains that everyone can invest and build wealth thru the stock market by following a very simple system.
This newly launched book broadens the possibilities of creating millions in the stock by following simple strategies or Bo called it "Turtle Strategy".
Follow the Strategies of This Book and You'll Create Wealth Over Time
Hard fact: Eighty-five percent of people who get into stock market lose their money.  That's the reality.
But that's because these people don't know that the turtle always wins.
In this highly inspiring, extremely practical book, author Bo Sanchez will teach you the "Turtle Strategy" that will protect you from losing money and make you retire a multimillionaire.
In this book, you'll learn…
Four different kinds of animals that exist in the stock market;
Common mistakes you need to avoid in the stock market;
How to use the Turtle Strategy to make your millions;
Six Lifestyle Principles of the Turtles to grow your wealth (This is very important);
Bo's Strategic Averaging Method (SAM) – learn what Bo believes to be the best, simplest and safest strategy of multiplying money in the world
Turn the page of this book and change your financial life forever!
For more guidance on how to invest in the stock market, Bo created the TrulyRichClub.  By joining this club you'll receive deluge materials to assist and help you grow in your financial and spiritual life.  Every two weeks Bo sends Stocks Update eReport which tells you what stocks he's buying and selling plus a lot more.  If you want to gain financial abundance, go to www.trulyrichclub.com now!